Don't know how to get Vietnam working visa? Simply get working permit for foreigners in Vietnam and something you need to avoid when apply for your…
As a person planning to enter Vietnam for business purpose, you might know that Vietnam working visa and work permit are important documents which allow you to get into and work in Vietnam legally. Owing to their importance, Visa Thai Duong has compiled detailed information that helps you to easily get them.
Vietnam working visa (business visa Vietnam) which is categorized as visa DN, DT or LV (aka B3 and B4 visa type) is issued for those traveling to Vietnam for business-related purposes. A working visa in Vietnam is usually valid for three months (single or multiple entries) or even six months to 1 year.
>> Vietnam Bussiness Visa 2018 And How To Get it ?
Presently, there are some legitimate methods for you to get Vietnam working visa. For example, you can either choose to get Vietnam visa on arrival by submitting an online application or apply for a Vietnam Embassy visa by paying a visit to the embassy nearby your place.
No matter which method you choose to apply for a visa, you must satisfy all of the Vietnam working visa requirements. Below are some necessary documents for a Vietnam work visa application that you need to prepare:
Original passport.

Vietnam business visa application form.

A color picture taken within 6 months from the application date.

Letter of clearance.

Visa application fee.
A HOW TO APPLY FOR WORKING PERMIT IN VIETNAM ?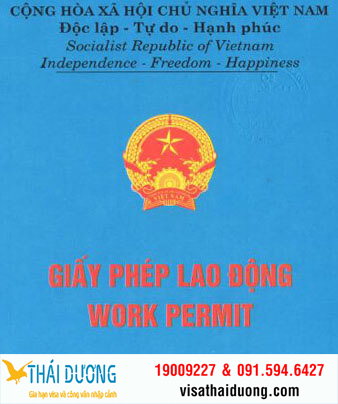 Required Documents:
Request for work permit form. (new form issued in April 2014, employer need to prepare).

Health check certification.
Criminal records (issued within 180 days), if applicants have been stayed more than 6 months in Vietnam, they will have to provide both Vietnamese criminal records, & the criminal record from their home countries.
Degree ( university or higher).
Working experience confirmation document from former employers.
Passports ( Copy).
Approval document from Committee which allow employer to use Foreign workers.
Employer's Business certification
Passport size photos (2).
Proccessing Time: 40 working days.
Service Fee: USD $320.
If you have nothing for make work permit contact us just 450$/ cash
B – WHAT WILL HAPPEN IF I WORK IN VIETNAM WITHOUT WORKING PERMIT
Yes, You can. If you are in one of the following cases:
Working duration is less than 3 months.

Members of a limited company which include more than 1 member.
Owner of one member limited company in Vietnam.
Members of BOD at a joint stock company.
Doing service sales activities for a foreign company in Vietnam.
Foreign lawyer with a law practice license issued by the Ministry of justice.
==> Vietnam daily private tour 
C – CAN I CHANGE THE NAME OF EMPLOYER ON WORKING PERMIT? IF YES, WHAT'RE REQUIRMENTS? COST AND PROCESSING TIME
Yes, You can change employers names on the work permit, up on your job title, there are two cases:
C

ase 1: You still have same title as at the former company.

The requirements are below:
Your Work Permit.

Former employer's confirmation, we provide from, they just need to sign + stamp.
Copy of your new employer's business registration certificate ( notarized).
Your passport.
4 photos of you (3x4cm size).
Case 2: You have different Job title at the new company. The applications include:
Your Work Permit.

Former employer's confirmation, we provide from, they just need to sign + stamp.
Copy of your new employer's business registration certificate ( notarized).
Your passport.
4 photos of you (3x4cm size).
Your Degree.
Helth check certificate.
D – DOING SERVICES SALES ACTIVITIES IN VIETNAM: BEST ADVICE
A foreigner comes to Vietnam for service sales activities needs to report to local department of labor, invalid and social affair in document including information of name, date of birth, nationality, passport Number, working duration in Vietnam, details of business activities in Vietnam. This report must be sent ( through fax, post, at office,etc…) 7 working days before this foreigner arrive.
For Example:
If a foreigner is going to do sales activities for his company's service in Hanoi from May 16th, 2013, his report must have been sent to Hanoi department of labor, invalid and social affair by May 7th, 2013.
More information about processing time for Vietnam Visa on Arrival and Vietnam visa fee 2018.
Visa Thai Duong is a tourism company in Thai Duong Tourism. The main field is the extension of Vietnamese visas for foreigners and the entry of Vietnamese citizens to difficult nationalities.
In addition, Thai Duong Visa specializes in the following services:
Visa for travel, visiting relatives, work.

Vietnam visa in San Francisco.
Doing the judicial record of Vietnam for foreigners.
Express Vietnam visa on arrival service.
Make a temporary residence card for outsiders.
Make the entry letter of Vietnam (1 – 3 – 5 – 7 days)
Extension of Vietnamese visa (1 – 3 days).
Visa at Moc Bai international border gate. (Included instructions).
Free consultation service visa.
Address: 302 Cong Hoa, Ward 13, Tan Binh District, Ho Chi Minh.
Call: 1900 9227 | Hotline: 091.594.6427 – Mr. Sang (Call, Zalo, Viber, Whatsapp)
Email: hotro@dulichthaiduong.com
Website: xingiahanvisa.net (Vietnam) | visathaiduong.com (English)