There are many tourists want to stay in Vietnam longer than 3 months however you want to get visa extension inside of Vietnam is relatively expensive.
It costs some time you more than $ 200 USD for 03 months multiple visa, in comparison with getting a new visa, it is many times more expensive.
If you want to get your visa extended in a cost saving way, it is recommended to do Vietnam visa at Moc Bai border. Let Visa Thai Duong show you in details how to this work.
1. Get Vietnam visa approval letter which is specially used for Moc Bai border entry
You must choose a trust travel agency to get a Vietnamese visa approval letter. Please note with them that you must get visa stamped visa at Moc Bai border to avoid getting wrong visa letter type easy way.
Pls bring the Approval letter along with you and prepare at least 2 photos of you (passport size with white background) and some cash to pay for Stamp fee later at arrival border
Single entry: 25$ for 1 month or 3 month
Multiple entries: 50$ for 1 month and  3 months, 95$ for 6 months, 135$ for 1 year.
Service fee for Tourist Visa : Depend off your visa duration, either 1 month fee 15$ , 3 months Single fee 20$, 6 months fee is 190 $ or 01 year visa 230$ with have or no have Company, and you pay different service fee for travel agency. if from Visa Thai Duong Company we charge
2. How to go to Moc Bai border
For option 1: you will take a public bus No.703 at Bus station in Park 23/9 (at the corner of Pham Ngu Lao and Cong Quynh street, opposite to Thai Binh Market.
Frequency: 30 minutes/1 bus. And just go to Moc Bai Border
Price: 1,5$/1 way
This option Visa Thai Duong Company recommended if you just want get the visa run at Moc Bai border.
Option 2: Book any bus at any office at Pham Ngu Lao street ( Thai Duong Express is popular one). You can buy it yourself. Be noted that this bus go to Phnom penh
Frequency: depend on the bus company you choose, and it go to Phnompenh.
Price: 09-10$/1way
The time is : 07:00am  – 09:30am  – 13:00pm &  15:30pm
This option is very good  way for going inside Cambodia and back to Vietnam just cross at border.
Or your can rental car 04 seat or 07 seat pickup from your hotel to Border and back normaly price is 22$ -35$ / way
>> Van rental to Moc Bai Border from Sai Gon only 22$/ way 
3. How does visa Thai Duong working at Moc Bai border?
You do exit Vietnam and get the Exit stamp on your passport at Vietnam Immigration Dept at Moc Bai border (Vietnam side)
You be come to Cambodia side with an Entrance fee stamp on your passport at Cambodia Immigration Dept at Bavet border (Cambodia side)
How to get Vietnam visa at Moc Bai border?
Cambodia visa: You will paid Cambodia fee is 35$
Depend of you, so you can leave Cambodia right away or stay in Cambodia for a holiday. Then you will exit stamp on your passport and leave Cambodia border .
You will go back to Moc Bai side , and fill in the entry visa form, and present the letter, original passport, photos that you prepared, and pay for the stamp fee, New Vietnam visa stamped on your passport with Tourist or Business Visa . The whole process may take around 15-20 minutes without hassle or trouble.
Contact Mr. Jimmy for easy make your visa at Border : 091 594 64 27 got Viber Zalo and Whatsapp
Border Visa services map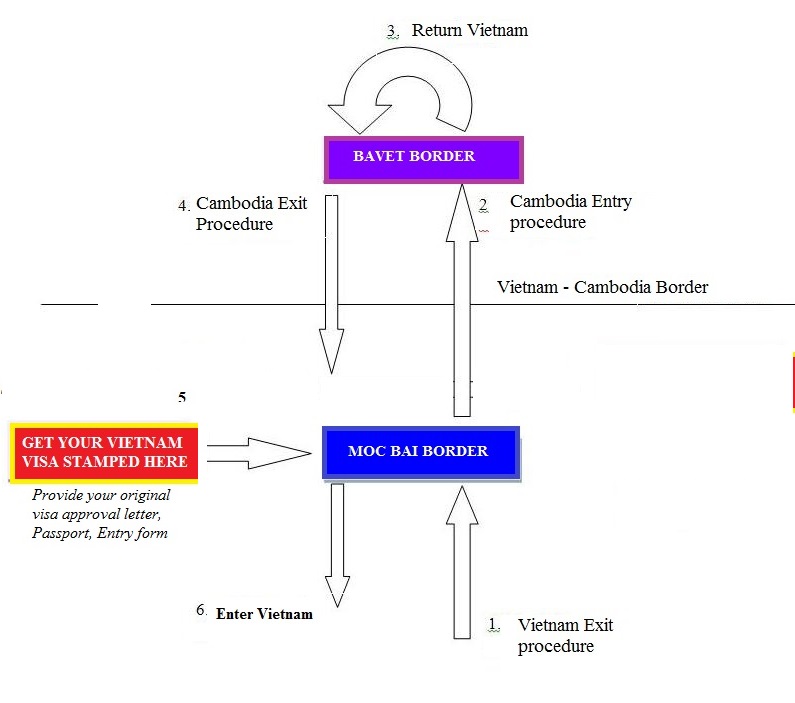 Stamping fee:
Single entry: 25$ for 1 month or 3 month
Multiple entries: 95$ for 1 month and 3 months, 135$ for 6 months and 135$ for 1 year.
Now you can find bus get back to Vietnam and stay in Viet Nam until your new visa expires.
Visa run moc bai border ,How to do Visa run to Moc Bai Border from Ho Chi Minh? Moc bai letter. Vietnam visa at Moc Bai border, THE MOC BAI BORDER RUN (VISA EXTENSION FROM SAIGON)
>> Tourist Visa for Kenyan citizens