If you're reading this I'm guessing you're thinking of doing a border run sometime soon, if not then you're probs just here for a good time… and thats rad too! This process is painless, very relaxed and I'd say actually kinda enjoyable if you're doing it with a friend.
WHAT DO YOU NEED?
Approval letter for tourist (takes 3-5 days to receive this letter) around 15 usd . Can do at any agency in Sai Gon or at Visa Thai Duong

2 x colour passport pictures.

About 35$ cash for the Cambodian Visa. Must be in Dollars!

Paid 25$ cash for your Vietnam Visa (3 month multiple entry, there are cheaper options if it's a shorter stay).

Your Passport

Bus to the border and back (50,000d one way).

And paid some coffee money for some services at border if no want trouble
HOW DO YOU GET TO THE BORDER?
You will need go into District 1 to the bus stop next to Cong Vien Le Lai park or 302 Cong Hoa st. Here you will hop onto the 703 bus , Cambodia bus to Phnom penh they also drop at border.
This bus goes from District 1, to the bavet Cambodian border and takes around 3 hours. The bus costs 50 000d to get to the border. It's a shitty, uncomfortable bus thats definitely seen better days, but hey it's defs got character. It may seem a little overwhelming as there are hundreds of buses at the bus stop… just look for the bigger "overnight" buses, thats where the 703 bus will be parked (when in doubt – ask the locals).
The bus Limousine – VIP bus price 220.000 vnd , or private car at 302 Cong Hoa st, Thai Duong tourism agency and there also include Stamp fee.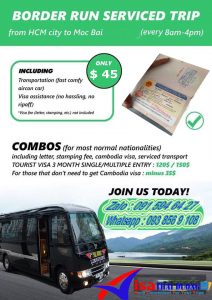 WHATS THE PROCESS WHEN YOUR GET TO THE BORDER?
When you get off the bus 703 you will need to walk to the left through an empty car park (it was empty when we were there), once you're through you will see a sign that says 400m Moc Bai border, follow that and you're there.
Go into the main building, do not get scammed by the men waiting for suckers like us. They'll say that it's 100 000d for a passport stamp, NO IT'S NOT… they're meaning to take your passport and jump the queue (so maybe if you're in a rush it'll be helpful). Just wait in the line, you do not need to pay any extra "hidden" costs. Here you will just get stamped out of Vietnam.
Then you will need to walk through no mans land until you reach the Cambodian Border. Here you will fill out a form given to you by the officials, (once again don't get scammed). When you hand your form in you will then pay the 35$. Now you will wait in another queue to get your Visa and your entry stamp. Once this is done you are now in Cambodia,vietnam private tour
Okay now lets go back to Vietnam…
We now have to get stamped out of Cambodia, the exit gate is next to the arrival gate. Walk around to the other side of the building and to the first little gate house/kiosk thing… here you will get stamped out of Cambodia. You will then walk through no mans land once again and reach the Vietnam border.
Once you're here you will fill in your last form, hand in all your documents and the 50$ cash. You will need to wait around for your Visa to be approved, we waited no longer than 20 minutes. When you receive this you will then wait in the queue (5 minutes) to be stamped back into Vietnam.
Some tips :
Private car 600k / way
Don't leave later than 12:00pm. You don't want to be missing that last bus back home.
If you have a bike, there is parking in the park next to the bus stop.