How to apply for Vietnam visa on arrival in 2020 – There are 4 simple steps to get Vietnam visa on arrival: fill out online application form, pay the service fee with credit card, receive an approval letter via email and get visa stamped at Vietnam airport.
Follow this post to know more details…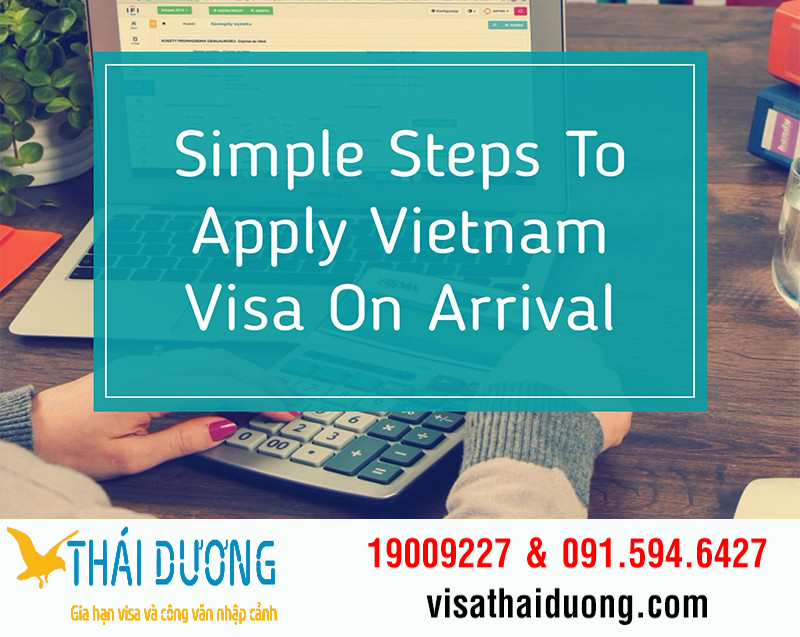 There are 4 simple steps to get Vietnam visa on arrival:
Fill out our secure online application form or Download Vietnamese visa on arrival form
Enter your personal information correctly especially on important sections such as full name, date of birth, nationality, passport number, date of arrival, primary email in the blanks.
Gender and flight number are optional so you have choice to provide us or not
Confirm and pay for the service fee
When you submit an application on our website, a confirmation email will automatically be sent to your email address within a couple of minutes. If you don't receive our email, please contact us at: hotro@dulichthaiduong.com
We will start to process your request when you complete paying the service fee. You can make payment with your Credit card/Debit card via our payment provider OnePay or through Western Union/Bank Transfer.
Receive approval letter and prepare for getting visa stamped on arrival
After your payment, we will send you an approval letter by email in the next 2-3 working days. Then you just print the PDF attachment file (color preferred, but not required).
Below is list of things you will need to prepare before entering Vietnam:
1. Print-out of your Visa-Approval letter.
2. A passport valid for at least 6 months from your arrival date
3. Passport should have at least two blank pages where the Visa sticker can be placed.
4. Cash US$ to pay for the Visa Stamping Fee at Vietnam airport (25 USD – for 1 month/ 3 months single entry, 50 USD – for 1 month/3 months multiple entry, 95 USD – for 6 months multiple entry, 135 USD – for 1 year multiple entry ).
5. 2 recently-taken photos with regular passport size (4x6cm)
Get your visa stamped upon arrival
Upon arrival at one of 3 Vietnam's airports (Hanoi with Noi Bai Airport, Da Nang with Da Nang International airport, Ho Chi Minh City or Saigon with Tan Son Nhat airport), you are required to fill out a short form (so-called "the entry and exit form") , attach photos, present visa approval letter and original passport and pay the visa stamping fee directly to Immigration officers.
More details about How to get Vietnam visa Extension 2018
Hotline: +84 915 94 64 27
Thai Duong Visa is a tourism company in Thai Duong Tourism. The main field is the extension of Vietnamese visas for foreigners and the entry of Vietnamese citizens to difficult nationalities.
In addition, Thai Duong Visa specializes in the following services:
– Visa for travel, visiting relatives, work.
– Doing the judicial record of Vietnam for foreigners.
– Make a temporary residence card for outsiders.
– Make the entry letter of Vietnam (1 – 3 – 5 – 7 days).
– Make Vietnam visa on arrival in 2020.
– Extension of Vietnamese visa (1 – 3 days).
– Visa at Moc Bai international border gate. (Included instructions).
– Free consultation service visa.
Address: 302 Cong Hoa, Ward 13, Tan Binh District, Ho Chi Minh.
Call: 1900 9227 | Hotline: 091.594.6427 – Mr. Sang (Call, Zalo, Viber, Whatsapp)
Email: hotro@dulichthaiduong.com
Website: xingiahanvisa.net (Vietnam) | visathaiduong.com (English)