Vietnam have many tourists want to stay in Vietnam longer than 3 months however getting visa extension inside of Vietnam is very expensive. It costs you more than $ 250 US for 3 months multiple visa, in comparison with getting a new visa, it is many times more expensive. If you want to get your visa extended in a cost saving more, Visa Thai Duong will recommended to how to do Vietnam visa  at Moc Bai border. Let us show you in details how this procedure work.
1. Make Vietnam visa approval letter which is specially used for Moc Bai border entry , it too easy and not too easy.
You must choose a trust travel agency to get an Original Vietnamese visa approval letter – Like Us Visa Thai Duong. Please note with them that you must get visa stamp visa at Moc Bai border to avoid getting wrong visa letter type like tourist or business
Service fee: Depend upond your visa duration, either 01 month, 03 months, 06 months or 01 year visa, you pay different service fee for travel agency. can contact Email: hotro@dulichthaiduong.com
==> Bus to Cambodia 
STEP 1: Bring the Approval letter belong with you and prepare at least 2 photos of you (photo of standard passport size – 4×6 cm with white background) and some cash to pay for Stamp fee later at arrival border.
* Documents to submit to get the Visa at Moc Bai border checkpoint:
1. Original letter (We will process and send this letter to you in real paper before your trip to Moc Bai)
2. Your Original passport
3. Form NA1 – Comeplete information and information in advance ( Use at airport)
4. Stamping fee
5. Your 2 Picture size  3*4
* Stamping fee for Vietnam Visa on arrival at Moc Bai border checkpoint:
– 1 month single entry: 25.00 USD/person
– 1 month multipleentries: 50.00 USD/person
– 3 months single entries: 25.00 USD/person
– 3 months multiple entries: 50.00 USD/person
– 6months multiple entries: 95.00 USD/person
– 1 year multiple entries: 135.00 USD/person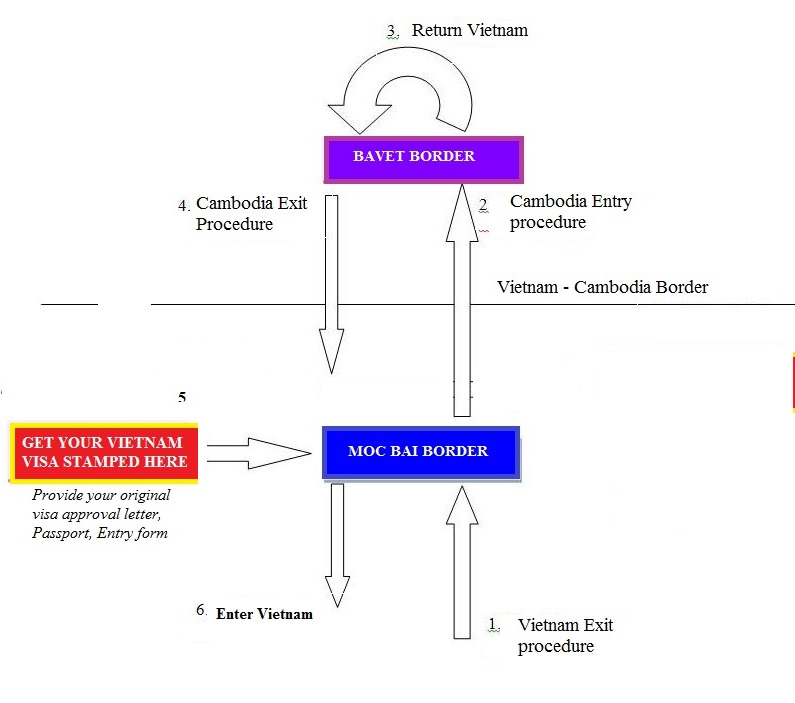 STEP 2: Take a bus to Moc Bai border. Bus ticket price is from 2$ – 12$.

*** BUS OPTIONS: Take a bus to Moc Bai from Ho Chi Minh city
– Option 1: Take a public bus No.703 at Bus station in Park 23/9 (at the corner of Pham Ngu Lao and Cong Quynh street, opposite to Thai Binh Market)
Frequency: Departs each 30 minutes. And just go to Moc Bai Border
Price: 40.000 VND/person (around 2 USD/person/1 way).
If you just want to do a visa run and come back right away, you should choose this bus option.
– Option 2: Book any bus at any office at Pham Ngu Lao street or 268 Cong Hoa , the Thai Duong Express (Phuong Trinh , 168 Bus… is popular). You can buy it yourself. Be noted that this bus go to Phnom Penh
Frequency: Depend on the bus company you choose, and it go to Phnom Penh.
Price: 200.000vnd /1 person/1way.
If you have plan to  holiday in Cambodia to worth your Cambodia 35$ visa, you can choose this option bester way
STEP 3: You do exit Vietnam and get the Exit stamp on your passport at Vietnam Immigration Check-in counter at Moc Bai border (Vietnam side).
STEP 4: Then you will enter Cambodia border site and Entrance stamp on your passport at Cambodia Immigration Check-in counter at Bavet border (Cambodia side).
Cambodia visa: 35 S
In case you are free for Cambodian visa, you can come to Immigration check-in counter and enter Cambodia directly.
If the Cambodia Visa is required is 35$, you can buy the Visa on arrival at Visa on arrival counter. The Cambodia Visa is available at the border without apply in advance. You will process there Cambodia Visa on arrival on the spot and the visa fee is arround 35$ , may you will give them more money like 5$ for coffee. Depend on your order, you can leave Cambodia right away or stay in Cambodia for a while alternative. Normaly you will wait for them about 4 hour after have Cambodia visa then come back Moc Bai Border
STEP 5: after get Cambodia visa you need go back to Moc Bai border,then fill in the entry visa form, and present the original letter, original passport, photos you prepared in step 1, and pay for the stamp fee and get your visa done. Normaly you will wait for them about 4 hour after have Cambodia visa then come back Viet Nam without hassle or trouble.